When I was two, my sister, mom and I moved from the tiny town of Pleasanton, Texas to Austin, a larger but still small-ish (at the time) liberal city known for its abundant outdoor activities, music, free-spirited & friendly folks, local business love and breakfast tacos. I mentioned breakfast tacos, right?
My childhood was spent making candles at Eeyore's Birthday Party, exploring my backyard AKA the Barton Creek Greenbelt and walk-running in the Capitol 10,000 (I HAD SHORT LEGS, YOU GUYS!) I learned how to swim in Barton Springs & Deep Eddy, and proudly walked in costume with my dog Rasta in the Pet Parade each year. I couldn't WAIT to die my hair purple and pierce my nose just like the homeless teenagers who panhandled on The Drag outside of St. Austin's, the Catholic school I attended in kindergarten.
Though the winds of change took me to San Antonio just before high school, I'll always have a sweet spot for Austin. It's a big part of who I am today—the kind of girl who emits a hippie energy at times, enjoys an outdoor adventure and looooves a good tune… but still appreciates a Moscow Mule & party dress every now and then.
I can't quite shake the sense of having unfinished business in Austin, but maybe that's a feeling hometowns commonly evoke? "I ain't lost, just wandering."  … I'll let you know when I figure that one out, y'all. For now, enjoy the photos from my most recent trip to Austin. #TexasForever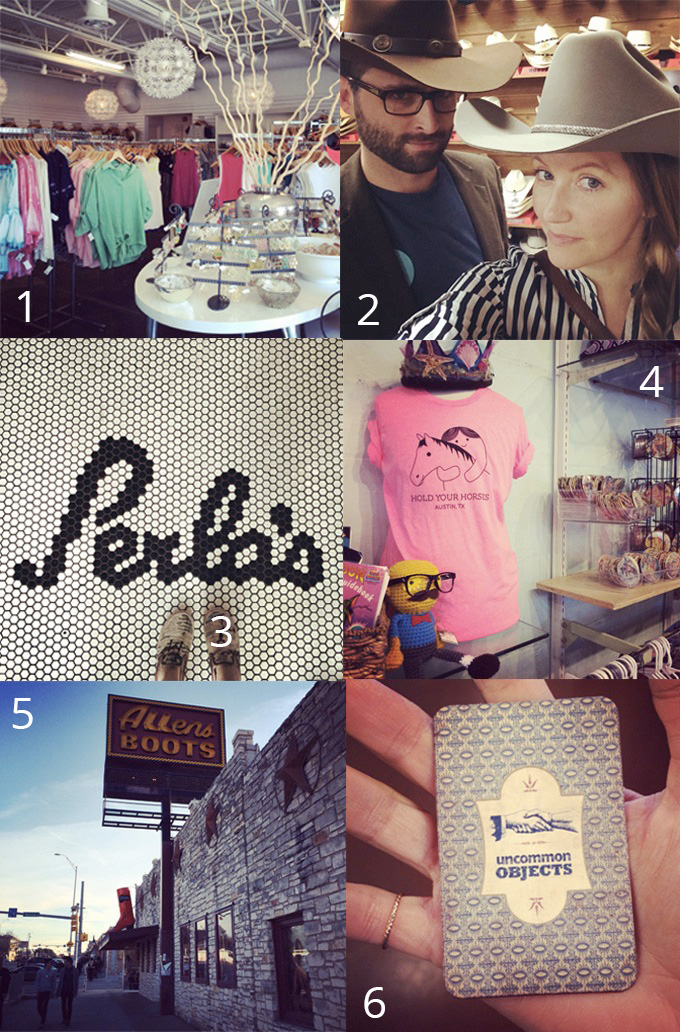 Austin musts: 1. The Impeccable Pig (great dresses!)  2. Cowboy upping at Allens Boots 3. A perfect day includes oysters at Perla's, trust me. 4. So many good things at Parts & Labour (SO MANY!) 5. Allens Boots sign on South Congress 6. Biz card at one of my favorite shops: Uncommon Objects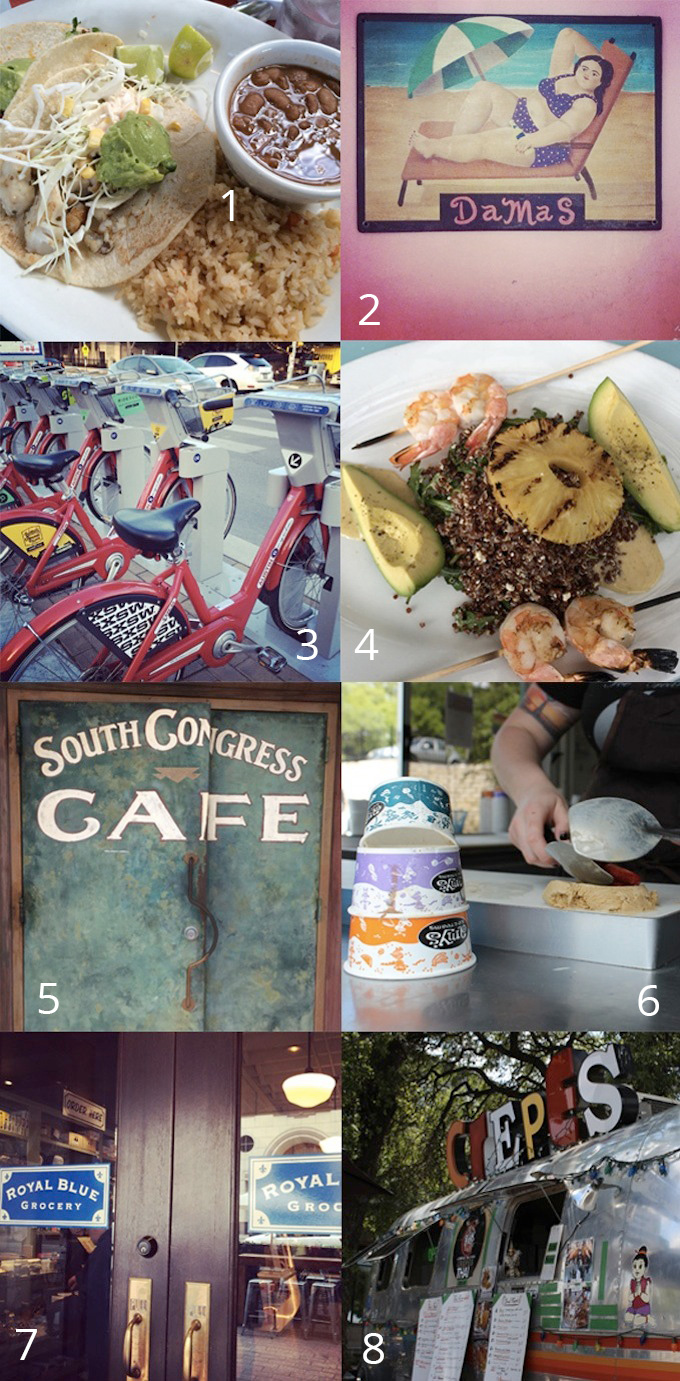 I'll cry if you don't experience: 1. Fish tacos at Guero's Taco Bar 2. Damas baño at Guero's 3. Rentable B-cycles on Soco 4. My favorite dish at Snack Bar, the Avocado Quinoa 5. South Congress Cafe 6. Amy's Ice Cream (coffee ice cream with strawberries is my go-to) 7. Royal Blue Grocery (Get there early for their breakfast tacos) 8. Crepes Mille, one of the many food trucks in Austin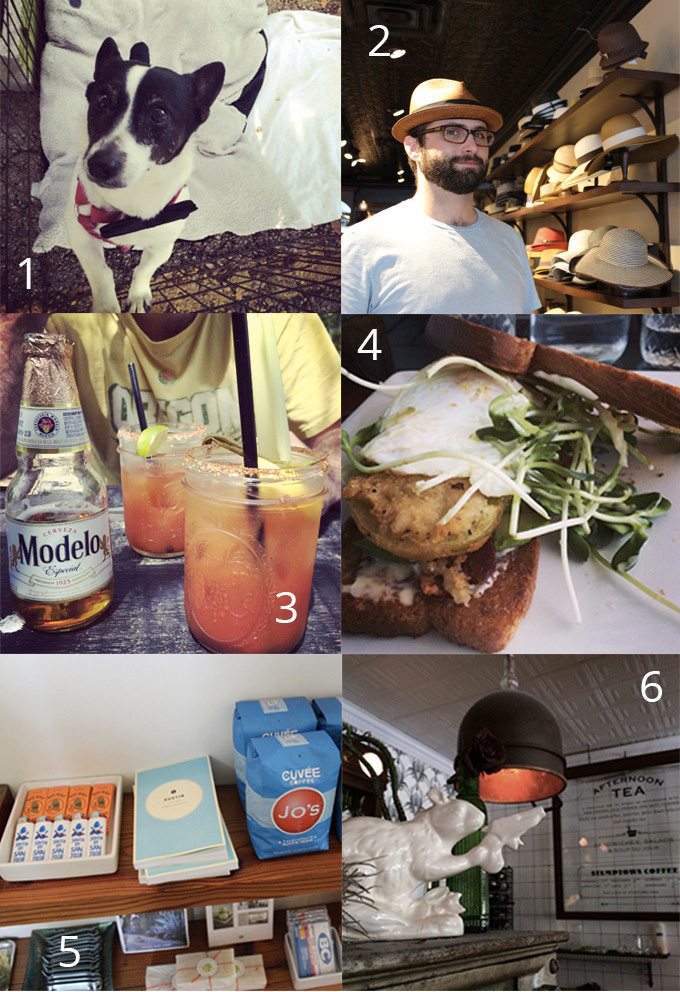 No really, don't miss: 1. A sweet puppy up for adoption at Austin Pet's Alive's SoCo trailer (Such a great organization)  2. Hubba hubba, Scott Rowan at Goorin Bros. 3. Micheladas at Hillside Farmacy 4. The fried egg sandwich offered at brunch (Sat & Sun) at Hillside 5. Goodies up for grabs in Hotel San José's lobby 6. A squirrel that don't play at Hillside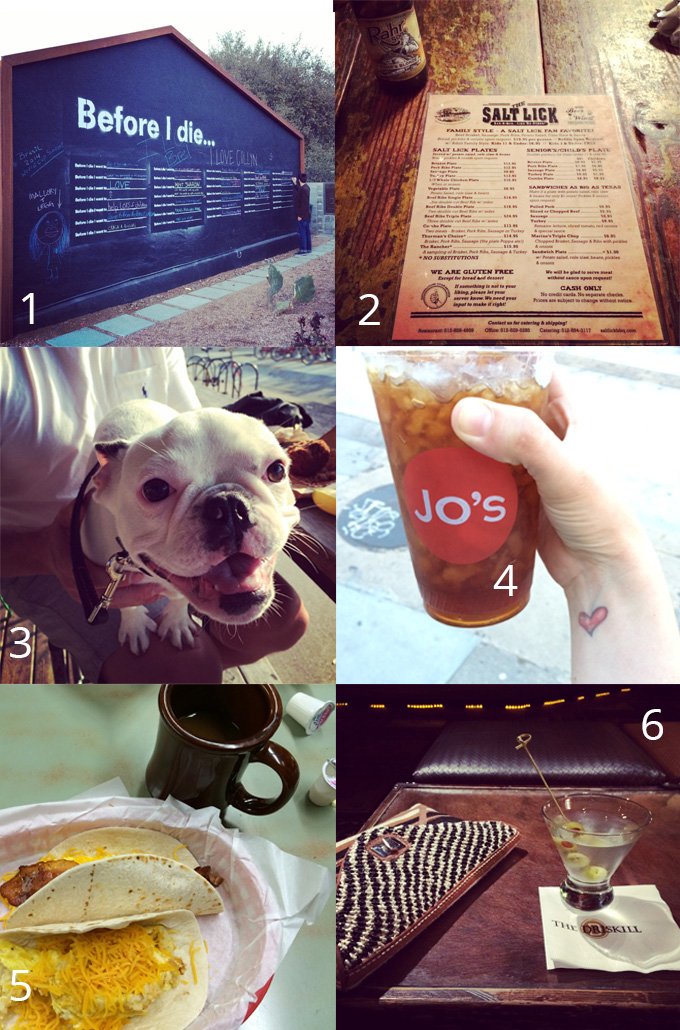 Write these down: 1. Before I Die public art 2. Delicious BBQ at Salt Lick in Driftwood (Take cash and BYOB) 3. My new friend Gus at Jo's 4. Delicious brew at Jo's 5. Breakfast tacos at Nau's Enfield Drug 6. Dirty Tito's martini at the historic Driskill Hotel, of course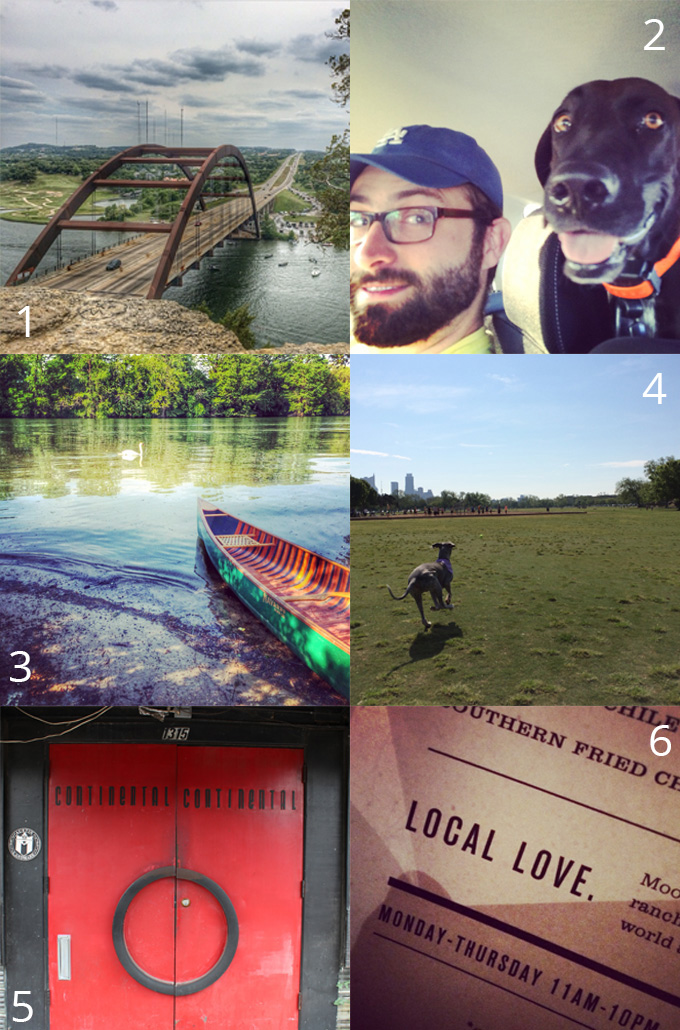 Let's rent a U-Haul already: 1. The 360 Bridge 2. Two dudes REAL excited to play outside 3. Town Lake 4. Freedom at Zilker Park 5. The Continental Club 6. Menu at Moonshine ♥