Sorry for the radio silence last month, guys! What was supposed to be just a week away for a redesign turned into a whole month. OOPH. Life man, ya know? I'm not very pleased with myself for not keeping up, but January has been a friggin' whirlwind! I learned a lot. Ya see, what had happened was…
I had the opportunity to join the Buffalo Exchange team as a part-time buyer. I've been obsessed with Buffalo for years, and working for the company was on my bucket list. CHECK! If you're not familiar, Buffalo Exchange is a vintage and used clothing shop that buys and sells used (but fashionable!) women's and men's apparel. They're located all over the U.S. and I always stop into one when traveling because you really get a feel for the style personality of the city. Whatever look you're into, you'll find something to love at Buffalo. The employees are super knowledgable about a variety of fashion brands and trends (not just their own funky cool-guy styles), so don't be shy if there's something in particular you're shopping for. They know what's up!
Want to clean out your closet to make room for more? Take your oldies but goodies into Buffalo Exchange and the buyers will go through your loot. If something catches their eye, they'll give you 50% in trade or 30% in cash (your choice) of what they think the item will sell for in the store. It's genius. I loved every second of working there. I fell in love with my fellow co-workers and the diverse bunch of customers I got to chat up while sifting through their goods. (Seriously, I met a clown. In real life.) Every piece of clothing that was brought in had a story behind it. "I wore these leather pants ten years ago in Miami!" Of course the store doesn't always buy what you bring in. After politely telling a woman we couldn't buy anything from her pile, she spent the next few minutes showing us photos of her granddaughter. Adorable. I had been missing this sort of people interaction in my life. It was so fulfilling.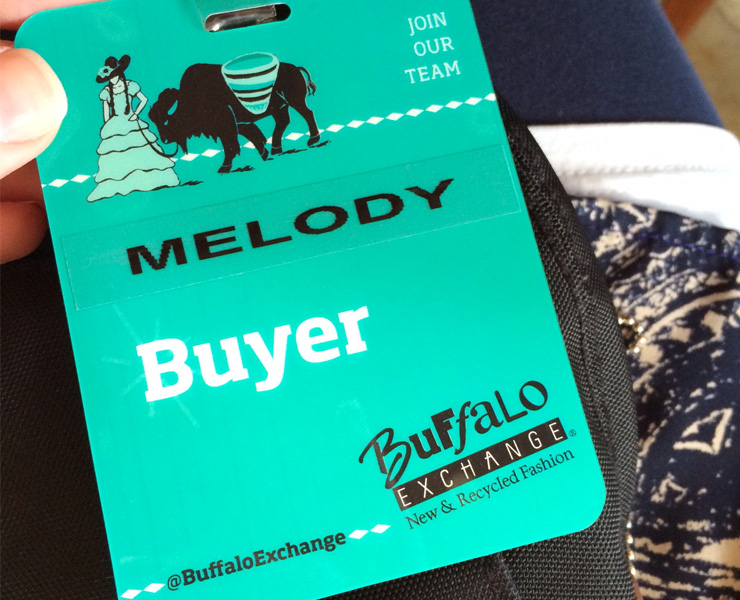 Unfortunately, my life as a buyer at Buffalo was short-lived. I overscheduled myself. Working at Buffalo along with my other coveted gig as a copywriter left me no time to blog or um… check my email! I was starting to go a little mad. Though I had a blast and learned so much about brands in a short amount of time, I sadly had to say au revoir to my friends at Buffalo. Though don't you worry, I intend to drop into the store way too often so I can see their sweet faces. And buy cool clothes, duh. Who knows, maybe this isn't the end of my career as a buyer… If you ever find yourself near a Buffalo Exchange, stop in. The shop is a treasure chest—you never know what goodies you'll find!
So that was January, dudes. Now that I'm back on track and focused on the blog, I CAN'T WAIT to show you more cool stuff and things. Scott and I ended January with an awesome trip to Colorado with 18 friends (and two dogs). I'll be sharing the pics of our huge cabin and snow-filled sled days soon! Oh, and remember that trip we took to New Orleans for Bonnie's wedding? (Hi Bonnie!) I have so many photos to share from that incredible trip, so stay tuned! I'll also be posting more about fun adventures in Los Angeles. Even though I've been here 3 years (is that all?!) there is still so much to see. If there's a place you'd like to visit through my pics and stories, let me know in the comments below. Thanks for sticking with me this past month, and have a great February!